Dr. William Chen Named AGA Fellow
University Gastroenterology Doctor Named Fellow of the
American Gastroenterological Association
Fellowship Honors Superior Professional Achievement in GI Field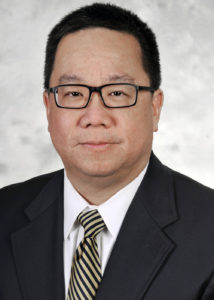 PROVIDENCE, R.I. (February 14, 2019) – University Gastroenterology announced today that William Chen, MD has been named Fellow of the American Gastroenterological Association (AGA), the nation's oldest medical society dedicated to disorders of the gastrointestinal (GI) tract. Through the fellowship program, AGA honors superior professional achievement in clinical private or academic practice and in basic or clinical research. Fellowships are awarded to AGA members whose accomplishments and contributions demonstrate personal commitment to the field of gastroenterology.  Dr. Chen joins University Gastroenterology's Dr. Thomas Sepe and Dr. Peter Margolis who are also Fellows of the American Gastroenterological Association.
Dr. David A. Lieberman, MD, AGAF, AGA Institute President, stated,  "The American Gastroenterological Association is proud to announce the 2019 inductees for the AGA Fellowship program, which acknowledges AGA members with superior professional achievement in the field of gastroenterology with fellowship within our organization. We are proud of those members who have been recognized by their peers and community as being at the forefront of our field."
About University Gastroenterology
University Gastroenterology is a 24-member single specialty group providing patient friendly, cutting edge care for diseases of the liver and gastrointestinal tract. Our doctors are regionally recognized for their expertise in general gastroenterology, inflammatory bowel disease, liver disease, and therapeutic endoscopy. Our group has major campuses in Providence, East Greenwich, and Portsmouth. Each campus houses a state-of-the-art ambulatory Endoscopy Center that provides a caring and cost-effective environment.  Our group also provides inpatient consultative services at Rhode Island Hospital, Miriam Hospital, Kent County Hospital, Newport Hospital, and Roger Williams Hospital. Referrals are welcome.
For more information on University Gastroenterology visit: www.universitygi.com
About the AGA
The American Gastroenterological Association is the trusted voice of the GI community. Founded in 1897, the AGA has grown to include 16,000 members from around the globe who are involved in all aspects of the science, practice and advancement of gastroenterology. The AGA Institute administers the practice, research and educational programs of the organization. www.gastro.org.
# # #