University Surgical Associates Offers Innovative Trial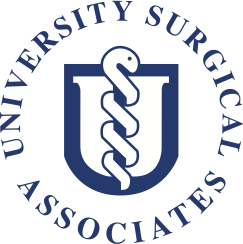 Surgeon Offers Innovative Treatment as Part of Trial to Treat Fecal Incontinence in Women
PROVIDENCE, R.I. (August 26, 2019) — University Surgical Associates is accepting trial participants to evaluate the effectiveness of a new procedure for fecal incontinence, using an already approved FDA system. Funded through a generous donation from the Rosalyn and Joseph Sinclair Clinical Professorship in Pelvic Floor Disorders at The Miriam Hospital, the study has the potential to raise awareness and offer hope to patients suffering from this pervasive and debilitating disorder, primarily impacting the health and wellbeing of women.
Dr. Leslie A. Roth, the study's lead researcher and a colorectal surgeon with University Surgical Associates, will be performing this procedure for eligible participants. "Patients who are living with fecal incontinence are an underserved population. Many keep their condition a secret from their closest friends and are socially anxious about the issue since it is not widely discussed," said Dr. Roth. "Through this procedure, we have an opportunity to improve the quality of life for countless individuals."
Fecal incontinence is a common condition that disproportionately affects women who have had children. The condition prevents people from being able to control their bowel movements, which could result in 'accidents' that could have psychological and social consequences. It is estimated that one in four women will experience fecal incontinence at some point in their lives.
Treatment for fecal incontinence has traditionally included surgical procedures such as a sphincteroplasty and/or sacral nerve stimulation. Both currently offer a solution to the issue, but respectively can be a highly invasive procedure and lengthy recovery, and/or lend to having an implant in the body long term. This procedure could offer patients a minimally invasive solution, coupled with a relatively short recovery time.
This procedure harvests a patient's own fat cells and injects them into the deficient tissue that causes the loss of stool. This injection serves as a bulking agent, to help cushion and support the affected area, involving fecal incontinence. Once the procedure is completed, the hope is over time, that these transferred cells will assist in the recovery of this weakened tissue.
Early study results have been promising, Dr. Roth says, especially when you consider that the fat that is transferred eventually disappears leaving behind only the reparative health benefits. She says further research must be conducted to evaluate the procedure's effectiveness, but the procedure is already helping to reduce the frequency of 'accidents' for patients. Additionally, patients have reported being able to return to their day-to-day activities within a week after the procedure.
"It is our hope to bring this treatment option to more people in Rhode Island, and across the nation. We are optimistic this trial will help address some of the stigma associated with this condition," said Dr. Roth. "I am hopeful that the adoption of this new technology will help improve the lives of many families."
Dr. Roth is a physician at University Surgical Associates and The Women's Medicine Collaborative at the Miriam Hospital, and also serves as an assistant professor of surgery at the Warren Alpert Medical School of Brown University.
Females, aged 18 to 50 years old, who have experienced three or more 'accidents' per week and who do not have other medical issues, are encouraged to call 401-444-7148 to learn more.
Dr. Roth and University Surgical Associates are conducting the study in conjunction with Rhode Island Hospital, where procedures will be taking place.
About University Surgical Associates
University Surgical Associates is Rhode Island's largest multidisciplinary surgical group. All 55 surgeons are on the teaching faculty of the Warren Alpert Medical School of Brown University. One of six medical practices that comprise Brown Physicians Inc., University Surgical Associates offers consultative, diagnostic and therapeutic services to both outpatient and inpatients for all surgical disorders from pediatric surgery through adult specialized services. University Surgical Associates encompasses a variety of specialties that include, bariatric, breast, endocrine, colorectal, general, hepatobiliary, pediatric, surgical oncology, thoracic, transplant surgery and vascular surgery.
For more information on University Surgical Associates visit: www.usasurg.org.
###