Dennis Hughes Named One of Top Five RIHousing Loan Officers
PROVIDENCE, R.I. (February 27, 2020) – Prestigious designation recognizes top RIHousing loan officer partners in the state.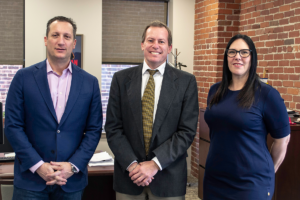 RIHousing has named Dennis Hughes as one of the agency's top five loan officers for 2019. The prestigious designation was announced by Lisa McGregor, Senior Lender Services Manager at RIHousing. The statewide agency provides resources and assistance for first-time buyers in Rhode Island and works with a network of lenders across the state.
"It is a pleasure partnering with Dennis to help Rhode Islanders secure safe and affordable mortgage options," said McGregor. "Dennis brings more than thirty years of experience to the homebuying process. He is dedicated to providing homebuyers with personalized service and has a deep understanding of the programs that best suits their needs."
"I am not surprised by Dennis's tremendous achievement," said Steve Tetzner, president of Homestar Mortgage. "His hard work and knowledge of financing options make him a valuable asset to our company."
In addition to consistently being ranked as one of RIHousing's top loan officer partners, Dennis is also a repeat Five Star Mortgage Professional award nominee. He graduated from SUNY Cortland with a Bachelor's degree in economics. Dennis resides in Barrington, RI with his family.
About Homestar Mortgage 
Homestar Mortgage is one of Rhode Island's largest independent mortgage lenders, offering home and commercial purchase and refinance loans. With offices in Providence and Wakefield, Homestar Mortgage is a licensed lender and broker in Rhode Island, Massachusetts, Connecticut and Florida.
###