Gift from Butler & Messier Insurance Helps Grant Wish for Local Child

Gift from Butler & Messier Insurance Will Help Make "A Wish Come True" for a Local Child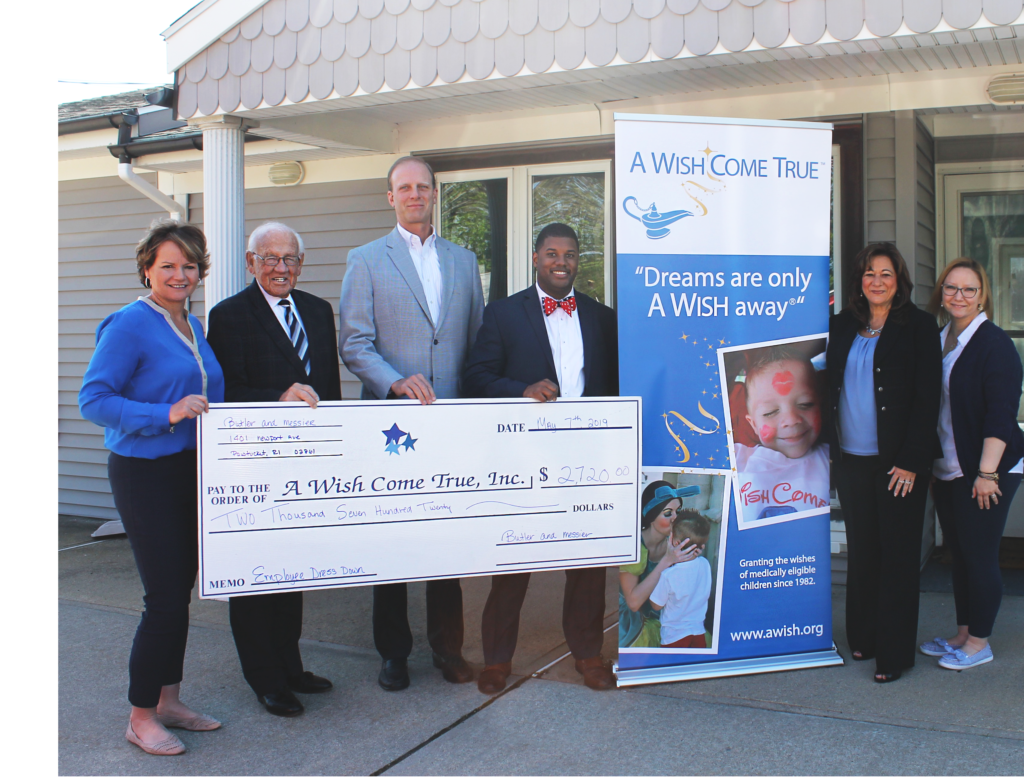 PAWTUCKET, R.I. (May 9, 2019) — This week, Butler & Messier Insurance donated $2,720 to A Wish Come True (AWCT), which will go towards a memorable trip for a child with a life-threatening illness. The donation is part of the insurance agency's commitment to help charitable causes in the area.
"We are pleased to support the mission of A Wish Come True. They are a wonderful organization that works hard to make so many people around the state happy," said Roger L. Messier, President of Butler & Messier Insurance.
The donation is part of Butler & Messier's Casual for A Cause campaign, a quarterly campaign that was started with the intention of helping local non-profit organizations. To participate in the campaign, staff members from Butler & Messier donate $5 to dress casually on Fridays. The insurance agency then matches those donations.
"Any time we receive a donation from the community, it helps support our kids," said Mary-Kate O' Leary, Executive Director at A Wish Come True. "This gift will be used to send one of our Wish Kids on a memorable trip that will be especially meaningful and healing for the family."
The Warwick-based organization has completed over 1,600 wishes for children in Rhode Island and Southeastern Massachusetts. Popular wishes the organization grants include trips to Disney World, sports-related experiences, and coordinating meetings with celebrities.
Messier explained that it is important to make matching contributions because it can be challenging for non-profits to raise funds. Donations from staff have steadily increased, he says, and the agency plans to continue matching staff donations to help local non-profits accomplish their mission.
Roger Messier (President), Bruce Messier (Sales Executive), and David White (Partner at Butler & Messier) presented the donation to O' Leary (AWCT), Lori Francisco (board member, AWCT), and Nicole White (coordinator, AWCT).
About Butler & Messier Insurance
Butler & Messier Insurance, an independent Trusted Choice® insurance agency, offers personal, commercial, and life insurance lines for families and businesses in Rhode Island and Southeastern Massachusetts. With locations in Pawtucket and Cranston, Butler & Messier offers competitive insurance rates from over 30 major insurance companies nationwide. Founded in 1903, the agency has helped New England families develop insurance packages that meet their individual needs.
For more information, please call (401) 728-3200 or visit butlerandmessier.com
###