Joseph A. Gil Joins Physicians at University Orthopedics


Joseph

A. Gil Joins Physicians at University Orthopedics
EAST PROVIDENCE, R.I. (July 30, 2019) — University Orthopedics (UOI) is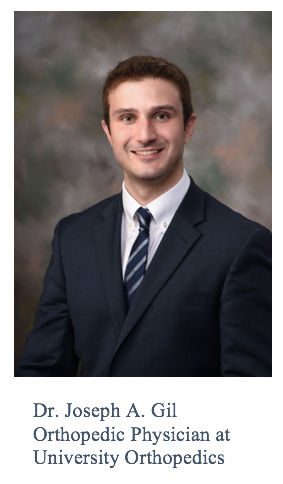 pleased to announce the addition of Dr. Joseph A. Gil to its team of orthopedic surgeons. With a specialization in treating hand and upper extremity conditions, Dr. Gil will ensure that Rhode Island residents receive the highest quality orthopedic care at University Orthopedics.
After earning his medical degree from Loyola University Stritch School of Medicine, Dr. Gil completed orthopedic surgery residency and an orthopedic trauma fellowship at Brown University. He later completed a fellowship in hand, upper extremity, and microvascular surgery at the Mayo Clinic.
An incoming Assistant Professor at the Warren Alpert Medical School of Brown University, Dr. Gil stated, "I am excited to join the faculty alongside my mentors at University Orthopedics.  This orthopedic surgery practice is truly devoted to advancing the profession through engaging in high quality research and persistently delivering the highest quality of orthopedic care. I look forward to helping patients overcome the challenges brought on by orthopedic conditions by restoring or optimizing their function so that they could return to their everyday lives."
Dr. Gil specializes in treating a multitude of upper extremity of hand and upper conditions. He has a particular interest in brachial plexus injuries, nerve conditions, tendon transfers, soft tissue reconstruction, wrist and finger arthritis, athletic wrist injuries, and upper extremity trauma.
"University Orthopedics is proud to welcome an accomplished physician like Dr. Gil to our team. His passion for advanced orthopedic research aligns with our mission to deliver care integrated with world class education and research," said Edward Akelman, MD, President of University Orthopedics.
He has co-authored over 120 clinical and basic science research papers, authored several book chapters, and his work has been presented at multiple national and international meetings.
Dr. Gil, who is eligible to join the American Board of Orthopaedic Surgery, will see patients at University Orthopedics' Kettle Point site in East Providence[DP2] [JG3] , The Miriam Hospital, and Rhode Island Hospital. Dr. Gil, his wife, Christie, and son, Joshua, currently live in his wife's hometown of Barrington, RI.
About University Orthopedics
University Orthopedics (UOI), with clinic locations in Barrington, East Greenwich, East Providence, Johnston, Providence, Middletown, North Providence, Westerly, and West Warwick, is a regional Center for Orthopedics, Sports Medicine and Rehabilitation, with specialties in back and neck pain, joint pain, sports medicine problems, shoulder conditions, pediatric orthopedics, musculoskeletal tumors, hand and wrist problems, hip and knee conditions, trauma, and foot and ankle injuries. UOI includes more than 40 board-certified orthopedic, fellowship trained musculoskeletal and sports medicine physicians.  These specialists are faculty members of the Department of Orthopaedics at the Warren Alpert Medical School of Brown University who teach medical students, orthopedic residents, and fellowship sub-specialty surgeons.
###