Largest Independent Surgical Group in RI Changes Name to Brown Surgical Associates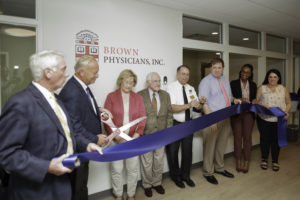 A photo from University Surgical Associates' grand opening ceremony in East Greenwich, one of multiple locations currently in operation.
PROVIDENCE, R.I. (December 18, 2019) — University Surgical Associates, the largest multidisciplinary surgical group in Rhode Island, has announced it will officially change its name to Brown Surgical Associates, effective Jan. 1, 2020.
"Brown Surgical Associates and University Surgical Associates are one in the same. The name change reflects our commitment to strengthening our affiliation and partnership with Brown University's Warren Alpert Medical School," said Dr. William Cioffi, President of Brown Surgical Associates. "This name change also aligns with our goal of bringing world class surgical care to all of RI and Southern New England."
As one of the six foundations that comprise Brown Physicians, Inc., Dr. Cioffi stated, "the decision supports the overarching mission to integrate care across the state to improve the quality of care for patients." All locations, services, and personnel will remain the same, according to Dr. Cioffi.
The group, Dr. Cioffi says, will continue to provide the same level of exceptional surgical care to patients throughout Southeastern New England. Brown Surgical Associates' surgeons are on the teaching faculty of the Warren Alpert Medical School and serve as teachers and mentors to Brown medical students, residents, and fellows.
About Brown Surgical Associates
Brown Surgical Associates (BSA), formerly University Surgical Associates, is Rhode Island's largest multidisciplinary surgical group. All 55 surgeons are on the teaching faculty of the Warren Alpert Medical School of Brown University. One of six medical practices that comprise Brown Physicians Inc., BSA offers consultative, diagnostic and therapeutic services to both outpatient and inpatients for all surgical disorders from pediatric surgery through adult specialized services. Brown Surgical Associates encompasses a variety of specialties that include, bariatric, breast, endocrine, colorectal, general, hepatobiliary, pediatric, surgical oncology, thoracic, transplant surgery and vascular surgery.
For more information on Brown Surgical Associates, visit: brownsurgicalassociates.org
###