Lincoln Abstract & Settlement Services Announces Title Company Franchise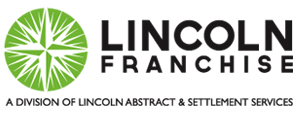 Lincoln Abstract & Settlement Services Announces Title Company Franchise
Lincoln Franchise First of Its Kind in Nation
PROVIDENCE, R.I. (January 14, 2016) – Lincoln Abstract & Settlement Services has announced the creation of the nation's first title and closing franchise, Lincoln Franchise. Title professionals, real estate brokers, agents, and lenders, as well as business entrepreneurs interested in this franchise program, will be given access to Lincoln Abstract's complete end-to-end title start-up solutions, plus access to their sophisticated title infrastructure and national vendor relationships. This franchise model allows these markets to gain entry into the title and closing business in a regulatory compliant way with ease.
Lincoln Franchise was also designed as a solution for many independent title agencies that have recently faced mounting costs related to new compliance and IT security obligations. This coupled with intense CFPB regulations are forcing many to question the viability of their existing title and closing practice. For those professionals, the franchise model helps maintain their existing client base in a more cost-effective way by leveraging Lincoln Abstract's complete infrastructure. This, in turn, affords them more time to focus on the expansion of their business, and satisfy most lender audit requirements while relieving much of the pressure associated with running a compliant title and closing company. Additionally, this program offers real estate professionals and lenders an opportunity to broaden the scope of their services, while providing business entrepreneurs the chance to participate in a rising real estate industry.
"This revolutionary concept was devised to offer easier and dramatically more cost-effective entry into the title industry in helping interested parties establish or continue to operate a compliant agency that will meet the trajectory of the title and closing business, along with managing the demands of new governmental regulations," said George T. Panichas, Jr., CEO of Lincoln Abstract and the founder of Lincoln Franchise.
"The franchise model is a holistic approach in which we work collaboratively with the franchisees. Through this collaborative approach, the franchisor and the franchisee share in the responsibilities associated with each title and closing transaction, allowing the franchise owners more time to focus their attention on business growth. We supply each franchise an Operations Manual which provides them with the tools to operate in an ALTA Best Practice compliant manner. The manual covers everything from how to physically construct a compliant office infrastructure, to closing a loan and everything in between," Panichas explained.
Jennifer S. Johnson, Esq., Executive Vice President of Lincoln Abstract, believes the franchise model is the solution real estate professionals have been asking for, stating: "The title and closing franchise model is a game changer for the title industry. It not only allows companies to leverage our national vendor relationships, but it also provides the IT infrastructure and compliant operational policies necessary to stay in the game. It also opens the title and closing business to literally hundreds of new industry players in a transparent way. All this is an extremely cost-effective business model. We strongly believe that if more players are in the game, competition will drive transparency and innovation and help drive down costs for consumers. This is a good thing. After all, we are a consumer driven industry, and the more transparency and choices for consumers, the better. Who could argue with that?"
About Lincoln Abstract & Lincoln Franchise
Located in Providence, RI, Lincoln Abstract provides title, closing and escrow products to consumers on a national level. With a wide range of expertise in all facets of the title industry, Lincoln Abstract offers a full suite of settlement services. Lincoln Franchise offers title and closing franchises to qualified professionals. Additional information can be obtained by visiting www.lincolnfranchise.com.
###