Loiselle Community Donates Hundreds of Books During Local Drive

FOR IMMEDIATE RELEASE
Loiselle Community Donates Hundreds of Books During Local Drive
PAWTUCKET, R.I. (April 17, 2018) — Joining the call to help improve the literacy rate among Rhode Island children, Loiselle Insurance Agency recently delivered hundreds of books and a $500 donation to the Books Are Wings organization.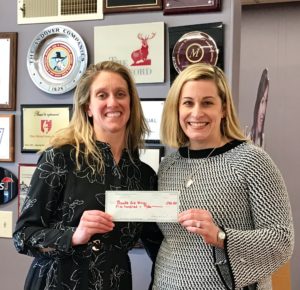 "Books Are Wings plays an important role in the community by promoting educational achievement among children from low income backgrounds. This organization has our sincerest gratitude for bringing books into children's hands and being an advocate for their education," said Bob Loiselle, president of Loiselle Insurance.
Books Are Wings is a Pawtucket-based non-profit organization that is dedicated to connecting children with high quality reading materials. By providing free books and special programming, the organization aims to kindle a passion for reading among disadvantaged children. The organization states their work will ultimately help lift communities out of poverty.
Loiselle Insurance collected over 500 books throughout March as part of the "March Reading Madness RI" campaign led by Books Are Wings. Through Facebook and face-to-face interactions, the agency received scores of lightly used books from clients who wanted to help youngsters reach a high level of reading proficiency.
Community partners included Providence Public Schools, Inspiring Minds, BankRI, and many others. Together, these partners donated thousands of reading materials to Books Are Wings.
"We would like to thank our clients and others for their overwhelming support to our book drive," said Melanie Loiselle-Mongeon, vice-president of Loiselle Insurance. "There is an urgency to address the literacy rates among disadvantaged children."
About Loiselle Insurance Agency
Loiselle Insurance is a fourth-generation, Trusted Choice insurance agency located at 279 Dexter Street in Pawtucket, RI.  Bob Loiselle, Melanie Loiselle-Mongeon and Brenda Loiselle-Marcotte represent the third and fourth generations of their family in the insurance profession. With over 65 years of service, the agency insures several generations of the same client families. To provide the broadest range of coverages, Loiselle Insurance represents many major insurance companies, which allow them to offer their clients the right policies at the right price.
For more information about Loiselle Insurance Agency, visit www.loiselleinsurance.com or contact Melanie Loiselle-Mongeon at 401-723-8510 or Melanie@LoiselleInsurance.com.
###