A Wish Come True Will Hold 18th Annual Polar Plunge in Person
Warwick, RI – December 9, 2021 – This year, an estimated 5,000 people will return to Easton's Beach in Newport to plunge into icy cold water to benefit children with a life-threatening illness.
A Wish Come True's 18th annual Polar Plunge will be held on January 1st at Easton's Beach (also known as First Beach) in Newport. It is also the nonprofit's 40th anniversary.
"We're kicking off our 40th-year anniversary on January 1st. What better way to do that than jump into the ocean?" said Mary-Kate O'Leary, Executive Director of A Wish Come True. "This is an opportunity for everyone to start the New Year by helping to support these amazing Wish kids and their families." This year's efforts will benefit Benjamin, who is 9, and Elijah, 5, both of whom want to go to Disney World.
The event, which raises funds for Rhode Island and Massachusetts' oldest wish-granting organization, is presented by CAV Restaurant in Providence. "They just received the 2021 Best Restaurant in Rhode Island Award, and we are so grateful to them. They truly embrace charitable giving," said O'Leary. "We are also thankful to all of our sponsors for this day," she added.
This is the first time the event will be held in person since the onset of the COVID-19 pandemic; last year's event was held virtually.
A Wish Come True has a permit for the plunge and is required to have insurance for the event along with police and fire departments on standby. In addition, plungers will be asked to give their names and emails for safety purposes. The beach will be divided into sections to allow for social distancing.
The Plunge will begin right at noon. Participants are encouraged to arrive early due to new check-in requirements addressing safety protocols. Check-in begins at 10:30am.
There will be a charge of $20 for 'Minnows' to plunge. For $40, 'Sharks' can plunge and get their choice of a towel or fleece blanket. Those who want to contribute without getting into the water can purchase a towel, fleece blanket or T-shirt for $25. Payments can be made by cash, check, credit card, or Venmo. Plungers are encouraged to start a Just Giving Fundraising Campaign to help raise funds to support your efforts in helping Wish Families. More information is on the website at www.awish.org. Plungers that started a JustGiving fundraising campaign online will just need to check in to receive their bracelet and blanket.
The plunge is a major fundraiser for A Wish Come True and is the largest event of its kind in Rhode Island and Massachusetts.
For more information on the event, including how to donate, visit www.awish.org. Plungers can also register in advance online.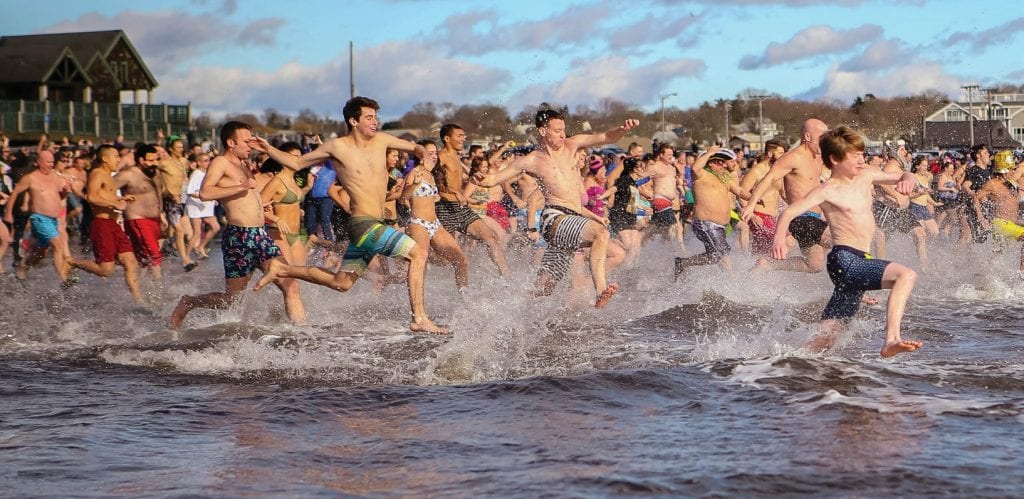 ABOUT A WISH COME TRUE
A Wish Come True, Inc. is a non-profit 501(c)(3) organization founded on October 8, 1982.  We are the oldest wish granting organization in RI and MA.  Our mission is to provide wishes and resources to families with a child (ages 3-18), suffering with a life-threatening illness that live throughout Rhode Island and Southeastern MA.
A Wish Come True, Inc.| 1010 Warwick Ave., Warwick RI, 02888 Office: 401-781-9199 | Mobile: 401-644-2237