Bringing warmth to needy RI youngsters this holiday

Bringing warmth to needy RI youngsters this holiday
PAWTUCKET, R.I. (December 20, 2017) — With the season of giving underway, some generous Rhode Islanders went the extra mile to fulfill the Christmas wish lists of 42 less fortunate children. Staff from Loiselle Insurance, a Trusted Choice agency, continued its hallmark tradition of supporting the Salvation Army Pawtucket Corps' Angel Tags program, which delivers hundreds of gifts to kids in need.
"Some of the children on our lists would not have received presents. And this can be especially heartbreaking for children who believe Santa has forgotten about them," said Melanie Loiselle-Mongeon, vice president of Loiselle Insurance. "The continued generosity of our staff has a greater impact than they may realize, and helps to preserve the magic of Christmas."
Individuals and companies interested in supporting the Angel Tags program will usually select a specific child from an "Angel Tree" in their area. The tags on the trees include information about a child's age and gender, and it also lists what that specific child would most cherish. Participants can choose to provide gifts for more than one child.
Many of the children participating in the program have chosen items that most would take for granted, according to Loiselle-Mongeon, who also serves as Secretary of the Advisory Board of the Pawtucket Salvation Army. Common items requested included shoes, winter coats, and dresses. Besides providing warmth for dozens of youngsters in Southern New England, staff also provided gifts such as dolls, trucks and videogames.
Loiselle-Mongeon said the agency's charitable giving culminates with staff volunteering their time to the Red Kettle Christmas Campaign, which donates proceeds to needy families by providing Christmas dinners, clothing and toys across the nation.
Joining the fight for the most in need this Christmas, the Loiselle Insurance staff will be dressed in Christmas attire and ringing the bell outside of the Stop & Shop in Cumberland on December 22 in an effort to bring in donations for the Salvation Army.
Loiselle Insurance has supported the Salvation Army in Pawtucket for seven years.
About Loiselle Insurance Agency:
As a full-lines insurance agency committed to service, knowledge and integrity, Loiselle Insurance Agency brings together well-qualified individuals to advise and counsel its clients on all types of insurance, from Massachusetts and Rhode Island home insurance to workers comp. Bob Loiselle, Melanie Loiselle-Mongeon and Brenda Loiselle-DuClos represent the third and fourth generations of their family in the insurance profession. With over 65 years of service, the agency is now insuring several generations of the same client families. Loiselle Insurance Agency prides itself on its reputation for professionalism and recognizing its clients' needs. In order to provide the broadest range of coverages, the agents at Loiselle represent many major insurance companies, which allow them to offer their clients the right policies at the right price.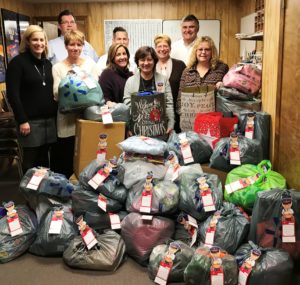 From left to right:
Melanie Loiselle-Mongeon, Steve Moran, Janet Stanton, Larry Rosa, Lisa DeOliveira, Lina Fonseca, Roberta Bernier, Bob Loiselle, Michelle Namaka
###