Doctor's Choice Adds New Vice President of Operations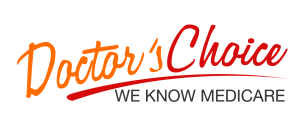 Warwick, RI (August 10, 2017) – Doctor's Choice, a Rhode Island-based company dedicated to educating consumers about Medicare, has named Leah Luo, R.N., Esq., Chief Operating Officer. Leah's unique background in both nursing and law position her to manage daily operations in this complex field, as well as to direct the company's strategic plan going forward.
Prior to assuming the role of Chief Operating Officer, Leah has experience as a nurse that developed a strong sense of triaging patient needs. "This translates nicely to managing business operations, as prioritizing tasks in a company isn't all that different from the work I did in the health center," Leah notes. "Instead of assessing conditions and implementing treatments on patients, now the business is my patient."
Dr. John Luo, founder of Doctor's Choice, is pleased to see Leah's role within the company expand even further: "Leah has always been a valued member of the Doctor's Choice team," he said, adding, "In addition to her exceptional legal experience, her years spent as a nurse have helped her understand the complexities of the health care industry. She exhibits a tremendous amount of compassion and dedication to her profession and I know she will strive to put her knowledge and training to work for the betterment of our clients." Leah had previously held the position of In House Counsel and VP of Operations at Doctor's Choice.
"I am excited to utilize my passion for improving health care delivery and wellness education for the clients of Doctor's Choice," said Leah. "This organization was formed out of a desire to empower consumers to take control of their future health care expenses by matching them to the plan that fits their needs. Through education, I believe we can create efficiency in how health care is delivered and paid for to maximize health outcomes for everyone involved."
Leah received her Juris Doctor from Roger Williams University, where she graduated magna cum laude. She studied Nursing and French at the University of Rhode Island receiving a dual degree BSN/BA, summa cum laude. Leah is member of the Rhode Island Bar and is a licensed Registered Nurse. Leah resides in South Kingstown with her husband and their 2-year old son.
Doctor's Choice's mission is to help retirees navigate Medicare through high-quality education. The company operates as a "choice model," offering many plans, with no specific allegiance to any particular Insurance Company. Contact Doctor's Choice today for a no-cost consultation. Insurance companies pay us a fee to help clients with the enrollment process. Doctor's Choice is located at 30 Quaker Lane, Suite 35, Warwick RI 02886.
For more information on Doctor's Choice visit www.doctorschoiceusa.com or contact the company directly at 401-404-7373 or by email at info@doctorschoiceusa.com.