Spine Surgery Team at University Orthopedics Welcomes Dr. Dominic Thomas Kleinhenz

Spine Surgery Team at University Orthopedics Welcomes Dr. Dominic Thomas Kleinhenz
EAST PROVIDENCE, R.I. (July 26, 2019) — University Orthopedics is expanding the reach of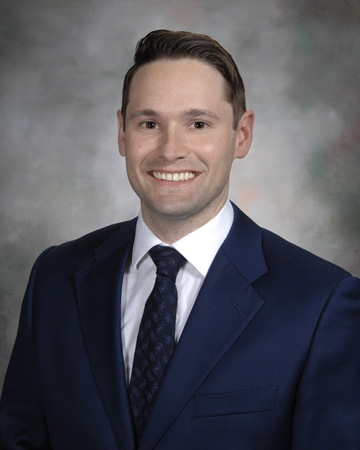 its Center for Spine Health with the addition of Dr. Dominic Thomas Kleinhenz, who specializes in treating neck and back problems. Dr. Kleinhenz's appointment at the center will help University Orthopedics care for more patients as more people seek the services of spine specialists.
"Dr. Kleinhenz has demonstrated an eagerness to treat patients using the latest technological advances available that will serve University Orthopedics well," said Edward Akelman, MD, President of University Orthopedics. "We are pleased he is joining our group of physicians and we look forward to seeing the results of his work."
With a focus on addressing conditions related to the back, Dr. Kleinhenz treats conditions related to disk herniation, degenerative cervical, thoracic, lumbar disease, spine trauma, and spine deformity.
"University Orthopedics is leading the way in providing patients with the most advanced surgical techniques available, and I am thrilled to be involved in the implementation of technological advances that UOI will surely adopt in the coming years," said Dr. Kleinhenz.
Dr. Kleinhenz , who earned his medical degree at the University of Florida College of Medicine, is a board eligible orthopedic surgeon with the American Board of Orthopaedic Surgery. He completed a residency in orthopedic surgery at Brown University and The Miriam Hospital/Rhode Island Hospital. Additionally, he also completed a fellowship in spine surgery at Brown University and Rhode Island Hospital.
About University Orthopedics
University Orthopedics (UOI), with clinic locations in Barrington, East Greenwich, East Providence, Johnston, Providence, Middletown, North Providence, Westerly, and West Warwick, is a regional Center for Orthopedics, Sports Medicine and Rehabilitation, with specialties in back and neck pain, joint pain, sports medicine problems, shoulder conditions, pediatric orthopedics, musculoskeletal tumors, hand and wrist problems, hip and knee conditions, trauma, and foot and ankle injuries. UOI includes more than 40 board-certified orthopedic, fellowship trained musculoskeletal and sports medicine physicians.  These specialists are faculty members of the Department of Orthopaedics at the Warren Alpert Medical School of Brown University who teach medical students, orthopedic residents, and fellowship sub-specialty surgeons.
###