University Orthopedics Hosts Ribbon Cutting and Grand Opening Ceremony for New East Greenwich Location

East Greenwich, RI (September 8, 2017) – University Orthopedics hosted a ribbon cutting ceremony to celebrate the opening of its most recent location, 1598 South County Trail, Suite 100 in East Greenwich, RI. The 22,000 square foot, state-of-the-art Orthopedics Center offers the latest in orthopedic treatments.
Local dignitaries as well as physicians and staff of University Orthopedics were on-hand for the ceremony. Following a brief speaking program, tours were provided of the facility. Additionally, as guests enjoyed refreshments, the University Orthopedics' team was available to answer questions from attendees.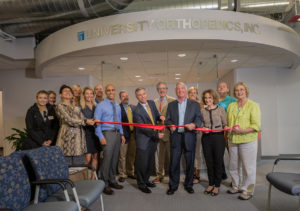 The building has been completely renovated and includes: five exam pods (with a total of twenty exam rooms); an injection suite (with two procedure rooms); four x-ray rooms; two cast rooms; and over 5,000 square feet of therapy space, as well as support and staff areas.
Focused entirely on the patient experience, this innovative facility offers comprehensive orthopedic care, including access to physicians across all sub specialties of orthopedic care: cartilage replacement, foot and ankle, hand and wrist, joint replacement, pediatrics, orthopedic oncology, spine, sports medicine, shoulder and elbow, trauma and fractures.  Additional services at the East Greenwich location include: hand and physical therapy, x-ray, and spine injections.
"We are pleased to add this new location for our patients in the East Greenwich area," said Edward Akelman, M.D., president of University Orthopedics. "At University Orthopedics, we are committed to enhancing the patient experience, and this state-of-art, innovative facility will offer expanded access to the specialized care our patients deserve."
About University Orthopedics
University Orthopedics, with clinic locations in Providence, Middletown, East Greenwich and Barrington, is a regional Center for Orthopedics, Sports Medicine and Rehabilitation with specialties in back and neck pain, joint pain, sports medicine problems, shoulder pain, pediatric orthopedics, musculoskeletal tumors, hand problems, hip and knee pain, trauma, and foot and ankle injury. UOI includes more than 30 board-certified orthopedic surgeons who are fellowship-trained, the highest level of medical training in the U.S. These specialists are faculty members of the Warren Alpert Medical School of Brown University who teach medical students, as well as new Orthopedic resident and fellow physicians. They lead the way with basic and clinical research on the latest advances in orthopedic surgery and injury prevention.
For more information, visit www.universityorthopedics.com. Appointments can be made through our central scheduling service at 401-457-1500.
# # #