West Elm Hosts Pre-Opening Celebration for East Side Providence Location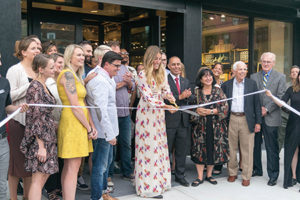 PROVIDENCE, RI (September 1, 2016) – West Elm, a Williams-Sonoma brand home furnishings retailer with 100 locations throughout the world, held a pre-opening celebration for its East Side Providence location on August 31st, from 6 pm – 8 pm. Located in the bustling Wayland Square neighborhood, the store officially opened to the general public on September 1st at 10 am.
West Elm Providence, Rhode Island's only location, is the latest addition to the Wayland Square community, which also recently hosted a grand opening ceremony for Pasta Beach, an Italian restaurant with locations in Newport and Boston.
The Wayland Square shopping and dining district has always been a vibrant and eclectic blend of diverse, flourishing small businesses. Stephen Lewinstein, a real estate developer whose holdings include several Wayland Square commercial properties, believes the additions of West Elm and Pasta Beach will further enhance the allure of Wayland Square, stating: "Together, they will bring the Square to a new level as a boutique shopping and dining destination. West Elm's vast drawing power will bring a multitude of new shoppers to the Square. Pasta Beach provides an authentic Italian dining experience with its imported ovens and chefs."
The Wayland Square Merchants Association, a non-profit organization comprised of small business owners whose goal is to positively promote Wayland Square as a shopping and dining destination, is pleased to welcome West Elm and Pasta Beach to the neighborhood.
Wendy Brown, owner of Wendy Brown Home and president of the Wayland Square Merchants Association, stated: "Wayland Square has had upscale shopping since the turn of the century. We are proving that we can survive and support main street shopping. The new tagline is: You can find it on the square. It's true. Everything you need, you can find on the square."
Providence's Wayland Square is home to a number of eclectic businesses and boutiques, including: Books on the Square; Clad In; Dixon & McAllister; J. McLaughlin; L'Artisan Café & Bakery; McBride's Pub; Plaid & Stripe; Providence Perfumes; Reliable Gold; The Salted Slate; The Olive Tap; Wendy Brown Home; F. Bianco; Milan Fine Clothiers; Strands; Washington Trust; Comina; Haruki; Lim's Thai Restaurant; Mrs. Robinson; Opt Eyewear Boutique; Paper Nautilus; Red Stripe; Simple Pleasures; Starbucks; Teas and Javas; Tropical Smoothie Café; Waterman Grille; Wayland Bakery; and Whole Foods.
###