Koch Eye Associates Hosts Grand Opening of New LASIK & Aesthetic Center in Cranston, Rhode Island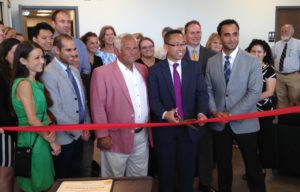 Cranston, Rhode Island (August 18th, 2016) – Koch Eye Associates, a CLARIS VISION® company, hosted a ribbon-cutting and grand opening ceremony for its new, 6,000 sq. ft. LASIK & Aesthetic Center at Chapel View Shopping Center in Cranston, RI.  Cranston Mayor Allan Fung was on-hand to celebrate the occasion, as well as many local dignitaries and elected officials.
Dr. Paul Koch, a pioneer of refractive surgery, believes that this center will enhance the patient experience while helping to train the next generation of surgeons:  "This is a culmination of 35 years of practice and 20 years of doing LASIK procedures.  We've taken everything we have learned and put it into the development of this center, so the patients will receive the best care possible in a comfortable, elegant and state-of the-art-environment."
Focused entirely on the patient experience, this innovative facility combines the best in eye care treatment and management, with the latest advancements in bladeless LASIK technology.  Additionally, the aesthetic division offers the finest in skincare and a wide array of procedures from Botox and facial fillers, skin rejuvenation and laser procedures for skin resurfacing to lift and tighten aging skin and to remove red spots and brown spots.
Dr. Andrew Munro, who specializes in aesthetic and reconstructive surgical techniques as well as diseases of the eye lid, will lead the aesthetic division: "This center brings together the best techniques of facial surgery with the latest procedures in skin rejuvenation. It is one place where both medical and aesthetic issues can be addressed at the highest level.  Koch Eye Associates is taking the same level of surgical excellence and customer service and applying that to the realm of facial aesthetics."
The center will offer the newest technology in topography-guided LASIK. By combining the Alcon EX500 Excimer Laser, the fastest laser on the market, with the Wavelight® TopolyzerTM VARIO, surgeons can design a unique treatment plan for every patient. Blending this refractive laser system with the FS 200 Femtosecond Laser has created a bladeless LASIK experience that is both quick and precise.
Dr. Richard Sayegh, who will lead the surgical team at the new Koch location, is one of the many physicians that Dr. Paul Koch has mentored during the last three decades.
"This center is a testament to what the Koch family has built, not only as a practice in New England, but also as a pioneer in the field.  I am honored to have learned from Dr. Koch and to be able to carry on the Koch tradition," Sayegh said, adding, "Patients will still receive the same Koch family feel when they walk in the door while enjoying their experience in comfort along with the benefit of the best technology available today. "
ABOUT KOCH EYE ASSOCIATES & CLARIS VISION
Founded by Dr. Paul Koch in 1981, Koch Eye Associates, a CLARIS VISION® company, is one of the largest eye care practices on the East Coast. With more than 50 doctors treating patients at many offices from Connecticut to Cape Cod, the practice also includes two laser vision centers and two surgery centers. Koch Eye provides comprehensive eye care and eye surgery services. Board-certified eye doctors offer state-of-the-art eye care services that range from basic eye exams to disease diagnosis. Other services include: vision correction services; LASIK eye surgery; cataract surgery; retina surgery and disease management; glaucoma diagnosis and treatment; aesthetic procedures; cornea surgery; dry eye management; and optical services.
For additional information, please contact Sarah Grant, Patient Experience Manager, at 774.929.6883 or sgrant@clarisvision.com.
###