Ahead of March Madness, PC Head Coach Ed Cooley joins fight against colon cancer
Ahead of March Madness, PC Head Coach Ed Cooley joins fight against colon cancer
PROVIDENCE, R.I. (March 9, 2018) — As the world of college basketball marches toward the NCAA Tournament, Providence College Men's Basketball Head Coach Ed Cooley has lent his support for an entirely different endeavor. This year, Cooley has teamed up with University Gastroenterology and University Endoscopy Group to urge those 50 years and older as well as those in high risk categories to get screened for colon cancer as part of National Colorectal Cancer Awareness Month.
As part of a campaign to shed light on the prevalence and prevention of colon cancer, the partnership has resulted in a public service announcement featuring Cooley that urges individuals to schedule a screening for the disease. The announcement will air in March throughout Rhode Island and Southern New England during NCAA tournament games, the Big East Tournament, and on various news and entertainment programming.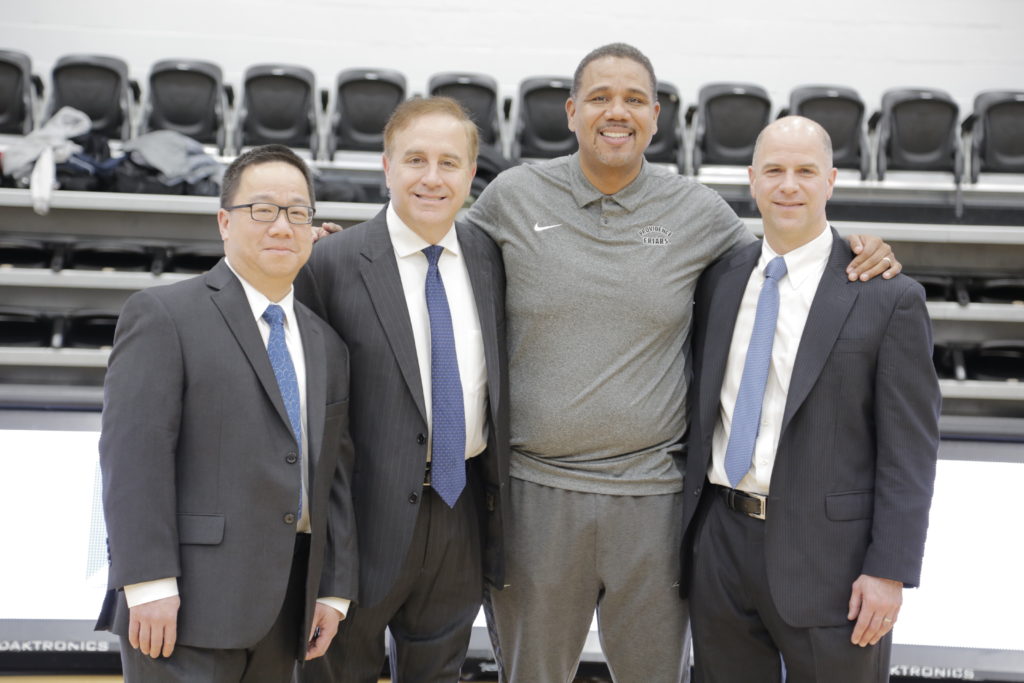 With the number of people affected by colon cancer every year, Cooley immediately recognized the importance of addressing this public health concern and said his reason for becoming involved was easy.
"I think it's the right thing to do if you are a public figure and you are trying to help other people. It's just the right thing to do," Cooley said. "It takes 5 minutes and if you feel you can help somebody and help the cause, it's why we are all here."
"We are pleased to partner with Providence College to promote this important initiative. Colon cancer is the second leading cause of cancer death in the United States, but it is also one of the most preventable," said Dr. Thomas Sepe, President of University Gastroenterology. "We are using this opportunity to reach families throughout Southern New England and to urge those approaching the age of 50 to schedule their screening and reduce their risk of colon cancer."
The Center for Disease Control and Prevention estimates there are about 140,000 new cases of colorectal cancer in the United States every year, and that one-third of those figures will result in terminal cases.
Eric Newton, a physician at University Gastroenterology and a clinical associate professor of medicine at the Warren Alpert Medical School of Brown University, joined his colleagues in stating that colonoscopy screenings allow doctors to find and remove polyps before they become cancerous. "If we can influence a single person to check on their health status, our mission would be successful. Colon cancer does not have to be the second deadliest cancer because in most cases it is entirely preventable," Dr. Newton said.
Dr. Newton is joined by University Gastroenterology physicians Sepe and William T. Chen in the video. The group plans to publish a longer video online at a later date.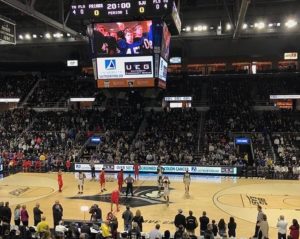 Fans may have noticed the public service announcement on Saturday, March 3, when the Friars faced off against St. John's at the Dunkin Donuts Center in Providence, R.I. The digital boards on the 60 foot LED screen were lit up with the message "Over 50? Get screened for Colon Cancer."
To echo the message, Cooley completes the public service video by saying "If you are over fifty get screened, it'll be the best move you'll ever make."
This is not the only awareness campaign that University Gastroenterology is undertaking this month. In an effort to reach an underserved population, Dr. Pedro Barros is spearheading a Spanish version of the campaign to alert Hispanic communities in Rhode Island and Southern New England about the importance of getting screened. His efforts are drawing attention as far away as California, Texas and New Mexico.
About University Gastroenterology
University Gastroenterology is a specialty group that provides patients with friendly, cutting edge care for diseases of the liver and gastrointestinal tract. Our doctors are regionally recognized for their expertise in general gastroenterology, inflammatory bowel disease, liver disease, and therapeutic endoscopy. Our group has major campuses in Providence, East Greenwich, and Portsmouth. Each campus houses a state-of-the-art ambulatory Endoscopy Center that provides a caring and cost-effective environment. Our group also provides inpatient consultative services at Rhode Island Hospital, Miriam Hospital, Kent County Hospital, Newport Hospital, and Roger Williams Hospital. Referrals are welcome.
For more information about the services and procedures that we offer, visit: http://www.universitygi.com/
###