Dr. Elizabeth Renaud joins University Surgical Associates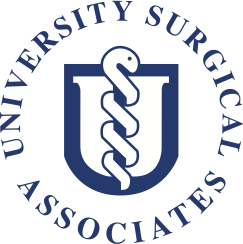 Dr. Elizabeth 

Renaud

 joins University Surgical Associates
PROVIDENCE, R.I. (January 3, 2017) — Dr. Elizabeth Renaud has joined University Surgical Associates as a pediatric surgeon. Her skills and qualifications will complement the array of services available in the Pediatric Surgery Division.
"Joining University Surgical Associates has provided me the opportunity to care for pediatric patients throughout my home state as a member of a team of extremely experienced and talented surgeons," Dr. Renaud said.
A native of Barrington, R.I., Dr. Renaud brings nearly a decade of experience in pediatric surgery. She performs multiple procedures to treat gastrointestinal diseases, abdominal and chest disorders, tumors, and many other types of conditions. Dr. Renaud also performs surgery for severe adolescent obesity, which is on the rise in the United States.
As a member of the American Pediatric Surgical Association, Dr. Renaud has served on multiple committees that have focused on surgical safety and quality, childhood obesity, trauma, and outcomes and evidence-based practice.
Dr. Renaud is certified in general and pediatric surgery by the American Board of Surgery. She earned her medical degree from the University of Michigan Medical School; performed her residency in general surgery at the Boston University Medical Center; and completed her fellowship in pediatric surgery at the LeBonheur Children's Hospital and St. Jude Children's Research Hospital in Memphis, Tennessee.
Licensed to practice medicine in Rhode Island, Massachusetts, and New York, Dr. Renaud is currently seeing patients at University Surgical Associates' Dudley Street location in Providence.
About University Surgical Associates
University Surgical Associates is Rhode Island's largest multidisciplinary surgical group.  All 55 surgeons are on the teaching staff of the Warren Alpert Medical School of Brown University.  One of six medical practices that are part of the newly established Brown Physicians Inc., University Surgical Associates offers consultative, diagnostic and therapeutic services to both outpatient and inpatients for all surgical disorders from pediatric surgery through adult specialized services.  University Surgical Associates encompasses a variety of specialties that include, bariatric, endocrine, colorectal, general, hepatobiliary, pediatric, surgical oncology, thoracic, transplant surgery and vascular surgery.
For more information on University Surgical Associates visit: www.usasurg.org.
###