Jake Hart selected to lead SERVPRO of Boston

Jake

 

Hart

 selected to lead SERVPRO of Boston, Downtown, Back Bay, and South Boston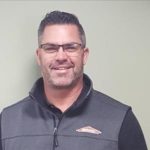 BOSTON (December 13, 2018) — Disaster restoration expert, Jake Hart, has been named the General Manager of SERVPRO of Boston. His experience in all areas of disaster relief will help ensure residents and business owners along the city's historic harbor can continue to rely on their local SERVPRO for immediate, high quality services.
Frank Mattos, CEO/Owner of the SERVPRO franchises in Boston, Weymouth, Mass., and Providence, R.I., is pleased to welcome Hart to the team, stating, "Jake brings a great deal of knowledge in the disaster restoration and maintenance field, and we are confident he has the training and aptitude to continue to provide the same level of service our customers have come to expect from a Mattos owned SERVPRO."
Hart will succeed Paul LaGrandeur, who announced he would be stepping down as general manager in November to spend more time with his family. LaGrandeur worked with Hart over several months to help ensure a seamless transition in leadership.
"Paul has been a great teacher and mentor. I have worked closely with him to understand what makes SERVPRO exceptional in our customers' eyes, and I will use my previous experience to ensure that we stay on the cutting edge of disaster restoration practices," said Hart.
Hart has also worked tirelessly to assemble a team that will work well together. He has extensive experience in water damage restoration, fire and smoke restoration, carpet cleaning, mold remediation, air systems cleaning, and air quality control. Hart holds numerous certifications from the Inspection Cleaning and Restoration Certifications and the American Indoor Air Quality Association.
Hart has three children with his wife, and enjoys spending as much time as he can with them. He also enjoys coaching his kids' sports teams during his spare time.
About SERVPRO of Boston — Downtown, Back Bay, South Boston
SERVPRO of Boston is part of the TeamMattos SERVPRO franchises, which have been awarded "SERVPRO Franchise of the Year," recognizing the top franchisee for loyalty, support, attitude and growth within the SERVPRO system.
Founded in 1967, SERVPRO is a national leader and provider of fire, water, mold, biohazard and other specialty cleanup and restoration services.  SERVPRO's certified professional services network of more than 1,700 franchises responds to property damage emergencies ranging from multi-million dollar disasters affecting entire communities to those suffered by individual businesses and homes.
For more information, contact John Houle of JH Communications at 401.831.6123 or via email at john@johnh376.sg-host.com.
###