Marketing Can't Be a 'Sometimes' Thing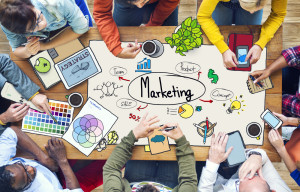 Effective marketing does not take six-month sabbaticals or the Summer off. At the most, it can get away with two-week vacations, as long as it returns to the daily grind.
Just like with any hard work, the ultimate reward comes after tireless travails, not from pie-in-the-sky long shots. There is no one-size-fits-all marketing solution, one that will distinguish your small business from the many fighting for that same piece of attention in an over-saturated media market.
Then what is the answer?
While there is no secret recipe for effectual advertising and public relations, there are some fundamental principles you should follow.
Why, you ask, would I simply turn over the marketing playbook for free in this column? I know that even the best ideas are meaningless unless they are executed.
I have presented the plan below for you to follow. It's up to you to figure out the best way to execute it.
Number 1: Start with a plan. Your marketing plan should include a communications audit and detailed list of monthly marketing activities. Your audit needs to include everything you spend for marketing: pens, coffee mugs, golf sponsorships, TV, radio, memberships, as well as everything else you categorize under the marketing budget. You should evaluate what you have to work with, judging each expense and determining whether it could be reallocated to fund more effective marketing.
Number 2: Fix that website. You need an interactive website that is easily found by your potential customers, is simple to navigate, and professionally displays who you are as a business today. Your website should have a content management system that enables you or someone you designate to update it. As the focal point from which all your marketing is executed, your website is essential to your company's future.
Number 3: Redesign your marketing materials. When you or your salespeople hit the street to sell new business, make sure they have the right tools when they show up to win that new job. I recommend a new brochure-folder to package all your products, which will also serve as the signature profile piece of your company. This new prospectus should include new tri-fold brochures written and designed for specific product lines.
Number 4: Harness the resources right in front of you. There is gold in your database of customers. You need to implement a direct mail and e-mail cross-sell campaign to round-out your accounts through letters, postcards, and targeted emails. You should send customized e-blasts to clients every month to cross-sell products and provide helpful, relevant information.
Number 5: Reach out to the thousands of prospects who don't know you. Through effective Search Engine Optimization (SEO), you can ensure you're found on Google and other major search engines. Your SEO campaign needs to be complemented with a targeted Search Engine Marketing (SEM) campaign with monthly reporting and analysis to determine what key words and products you should market.
Number 6: Take advantage of free media. It's no longer a question of should you implement a Social Media campaign, it's now about how effective you can make it. All social media handles need to be integrated into your website with regular weekly posts. Central to your campaign is the development of your own Blog, integrated into your website, with monthly (weekly if you can manage) writing and posting of articles of interest to your current and future customers. In addition, write regular press releases on news related events such as new employees, new certifications, new products, and charitable donations, and then distribute to local and statewide news outlets. Local news outlets are always in need of quality content.
Number 7: Showcase your company through video. Since you now have realized that you don't have to be an actor to effectively communicate through video, you can take it a step further. Bring in a videographer to tape and produce a one minute web video, integrate it into your website, and place it on your own YouTube Channel. Then send it out to all your contacts in a video e-blast communication.
While each and every one of these activities I have outlined are, in fact, things you can do yourself, you should consider bringing in a professional to execute. You're too valuable to your own business to also wear the marketing hat, and your company's image is far too important to be left to amateurs.
John Houle is the president of JH Communications and consults for small businesses throughout New England. He can be reached at 401.831.6123 or at john@johnh376.sg-host.com.