Nick Wishart to Represent Rhode Island in the Fourth Annual World Marathon Challenge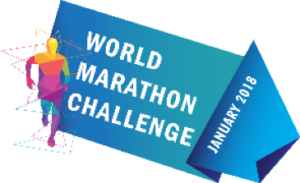 Pawtucket, RI – Nick Wishart will represent Rhode Island in the Fourth Annual World Marathon Challenge in January 2018. This event marks the only one in the world that offers the opportunity to run 7 marathons on 7 continents in 7 days.  Wishart is the first Rhode Islander to compete in this event and is currently seeking sponsors to support him from training through completion.
The World Marathon Challenge begins within the Antarctic Circle, on mainland Antarctica. In total, participants run 183.4 miles, fly 60 hours by private charter and travel 25,000 air miles to the 7 race locations.  While over 75 million people have run a marathon, fewer than 70 runners in the world have ever completed an event of this magnitude.
Wishart has been an avid runner since childhood and has participated in numerous marathons, including those in Cape Cod, Boston and New York City.  Training for the World Marathon Challenge has been life-changing for Wishart, and he is hoping to document his journey with the help of local support, stating: "Since first hearing about this tremendous event it has consumed me. The intense training is a vital part of my daily routine and I strive each day to push myself beyond my normal limits. I am hoping that local businesses and individuals will support me on my mission to showcase the fortitude of the human spirit."
The 2018 World Marathon Challenge has grown exponentially in size and popularity. Sponsors will receive recognition on Wishart's social media network, website and collateral material. Additionally, a 15% portion of all financial contributions will be divided equally among three local nonprofits: RISPCA, March of Dimes and RI Community Food Bank.
For more information, visit www.nickwmc.com, email nickcwishart@gmail.com or call 401.323.9742.
# # #